PLAYS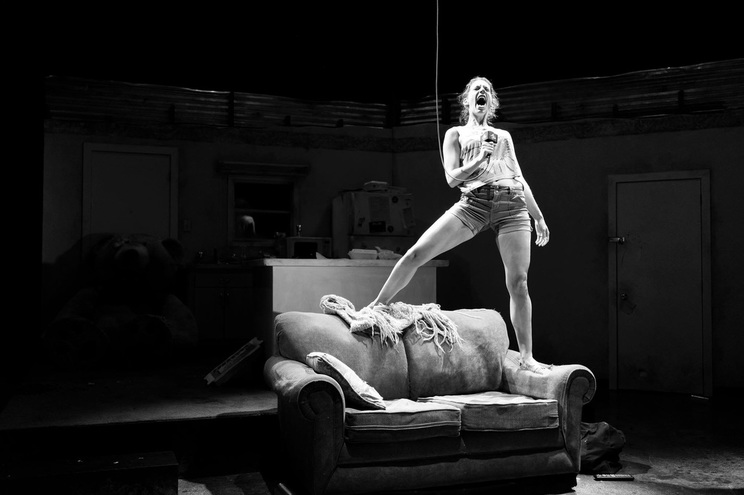 Mai Dang Lao
(3m, 3f)
During a tense shift at McDonald's, a young employee gives her notice to her oppressive managers. As she is subjected to humiliation and abuse after being accused of theft, the ubiquitous fast food restaurant becomes a warzone where self-improvement, denial and brutal labor practices are used as weapons.
Read play
here.


Widower
(2m, 3f)
Jonas is home alone. His drug addict father has disappeared. Hattie, a former professional wrestler who has fallen on hard times, shows up out of the blue. Stuck together in a home in the middle in the New Mexico desert, Jonas and Hattie wrestle with the truth of who they are and the lies they tell to get by. When the Exterminator arrives, Jonas and Hattie soon realize that the only allies they have may be each other. Widower explores what happens when villains turn into heroes, enemies turn into allies, and loss is transformed into something approximating redemption.
Read play
here.
Ready, Steady, Yeti, Go
(3m, 2f)
In the aftermath of a hate crime, Goon befriends Carly Uhlenbeek, the only black girl in school. While the town plans a "Kill Racism Forever" rally (while being unaware that they're making things pretty uncomfortable for the victims), an innocent, youthful romance grows between Goon and Carly. The two young lovers must navigate the pitfalls of falling in love while dealing with prying eyes, especially those of Wikipedia Jackson, the smartest boy detective in town. Things start to go south when passive-aggressive antics, bad parental advice, and ill-formed gestures of kindness create a "White Guilt Perfect Storm" that threatens to drown their relationship.
Read play
here:
Ex Machina
(3m, 1f)
Two coworkers, a security guard, and a woman about to rob the factory collide in this play about manual factory labor, the thrill of rebellion, dancing, old people candy, language, unions, and meaningful handshakes.
​Read play
here:
Misfit Christmas
(5​m, 6f)
Horrible people gather to celebrate Christmas. While going through the motions of yet another empty yuletide holiday, they accidentally summon an ancient, evil, murderous, drug addicted fairy.
Read play
here:
The Battle of Coney Island
(2m)
Now in "People Heaven," Nicola Tesla and Thomas Edison deal with the repercussions of their life-long feud. An angry elephant may or may not show up.
Published by
Samuel French: